800kg Commercial Heat Pump Dryer
Product Detail
Technical Specifications
AFTER-SALES SERVICE
Integrated Multifunctional backup quick-installation energy-save heat pump dehydrator,the multi-function drying set without drying room.It is most suitable for assiting the existing solar tunnel dryer to make up for the temperature instability of solar energy.The installation of the dryer is very simple and saving the cost of drying.

Features
1.The dryer integrates all the components together through an integrated design. The actual installation is very simple. You just need to connect the air duct.
2.The use of 220-230V voltage for household use does not require commercial 380V power consumption, so the scope of use is no longer limited. It can be used in households, small factories or remote places without commercial 380V power consumption. Businessmen do not need to apply for commercial electricity, expanding the scope of use of equipment.
3.It is most suitable for auxiliary use of existing solar tunnel dryer, which makes up for the temperature instability of solar energy – - no sunshine at night, the goods will be damaged. It combines free solar energy with energy-saving and stable heat pumps that work all day.
4.It can assist commercial solar dryer, combined with solar energy, to refine the quality of products and the effect of all-day use.
5.Saving the cost of drying – — Combining solar energy to achieve the optimal use effect and the maximum energy saving.
6.The multi-functional drying unit has its own control system and drying software system, which can reasonably control the drying temperature, humidity and time, and can set different drying temperature and humidity in multiple time stages. The adjustable program ensures that different parameters are input when drying a variety of products. It can be widely used in fruits, vegetables, other agricultural products, fish, shrimp and other seafood, cocoa beans, coffee beans, tea, spices and other cash crops. Can ensure work continuously for 12 months in a year.
Product details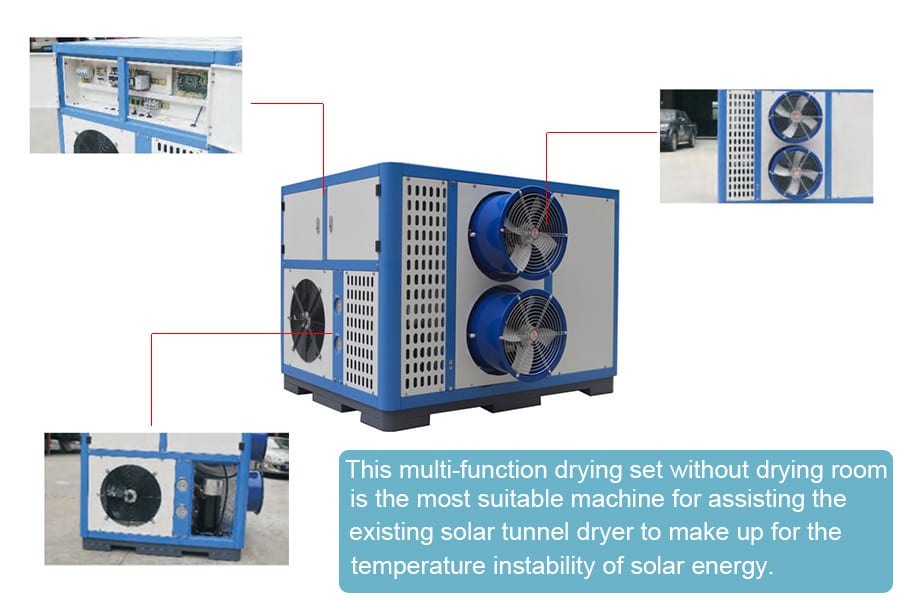 Type of drying room:

Application
Widely used to drying vegetable,fruit,herbs.Such as cabbage,daylily,litchi,honeysuckle,mushrooms,blueberry,jujube,tea,apricot,raisin,etc.So this dryer can be a food dryer,fruit dehydrator,herb dehydrator.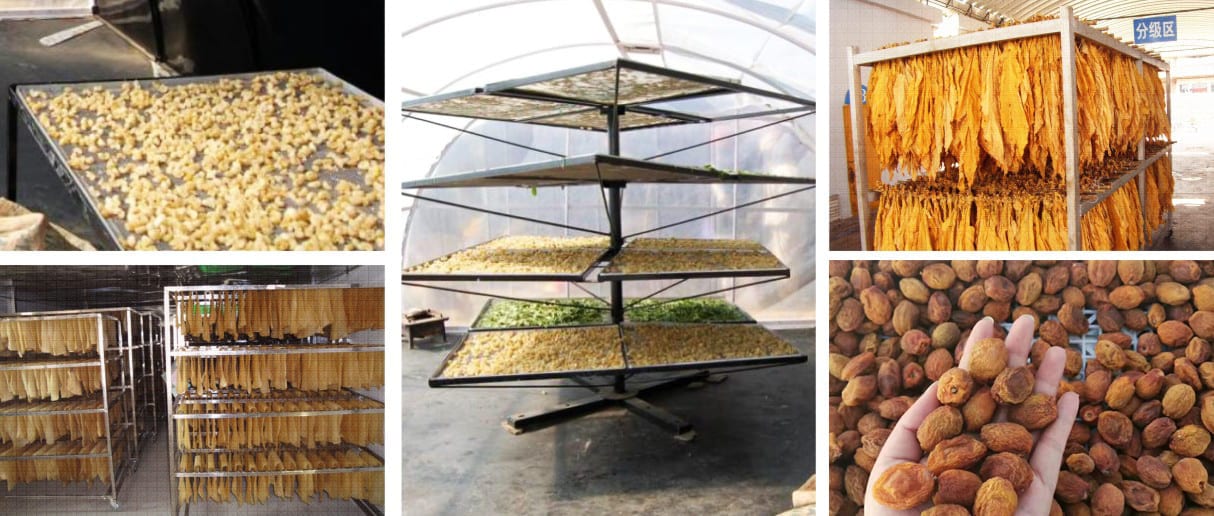 Project photos
Case of apricot drying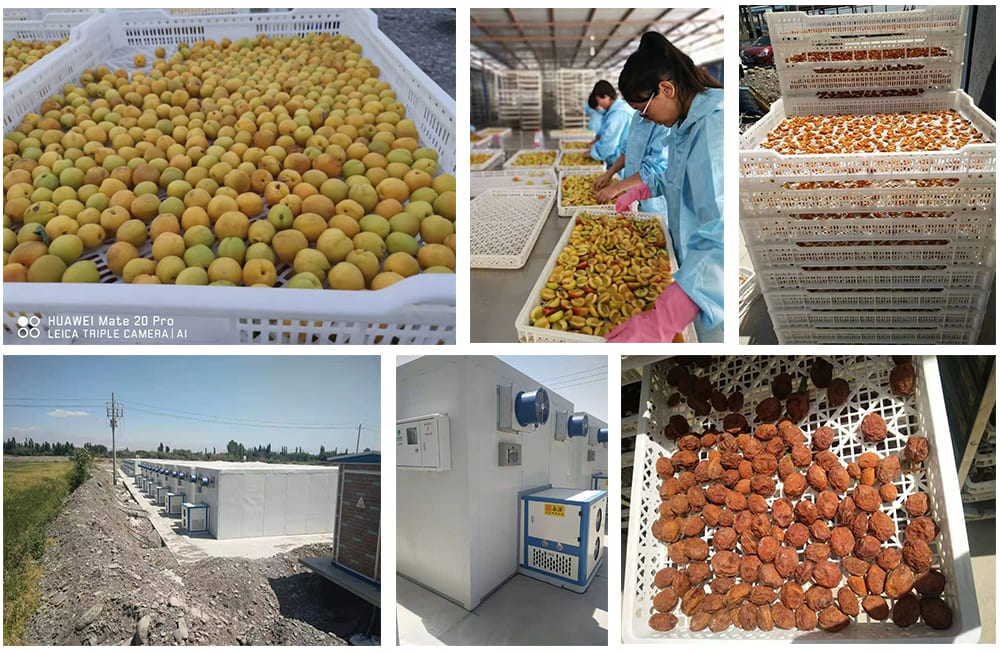 DRYFREE Apricots dryer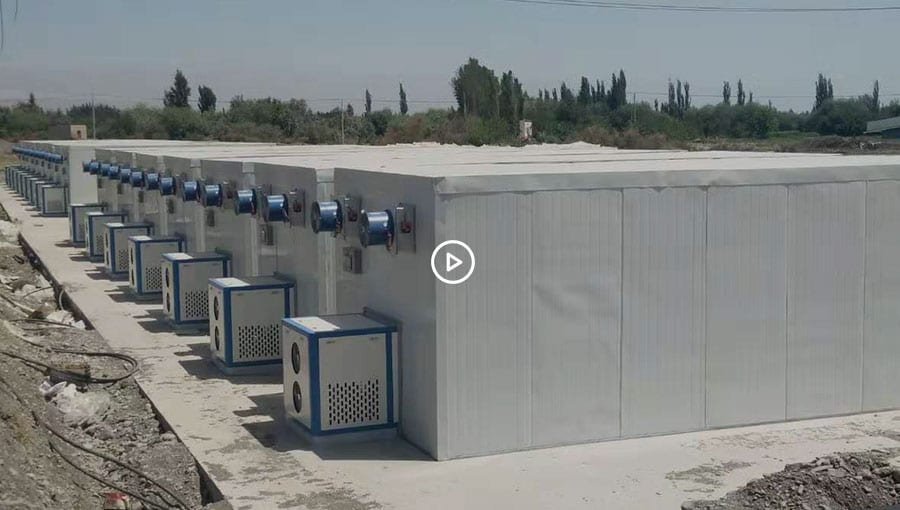 ---
---
1.Providing high temperature heat pump products featured by excellent property and leading technology exclusively.
2.Building complete technical supporting system through technical training and consultation service.
3.Supporting regular return visit and maintenance plan.
4.Providing specially-assigned person tracing service to ensure the good communication and coordination with clients.
5.Committing to providing 1 year free product warranty period and corresponding spare parts.
6.Gradually researching & developing and upgrading products,technology and solution.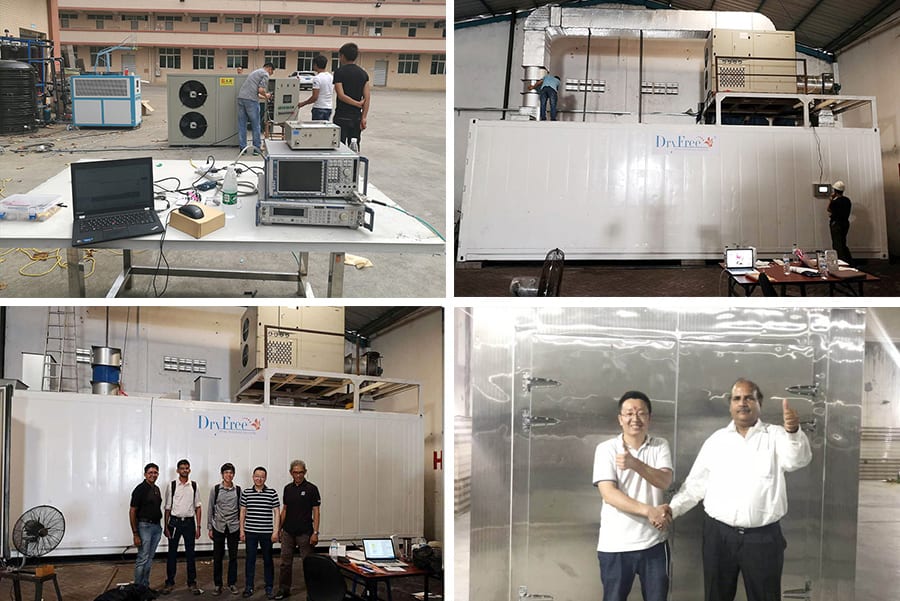 Dryfree always gets prepared for providing you our service. We supply you spare part service for 24 hours a day so you can recover production quickly and timely with the fittings timely supplied by us. We can deliver the commonly used fittings from our warehouse in Dongguan on the current day.And we also can ask our agent and partners in different region to help with after-sale service.We are well-experienced in project after-sales service management and praised by clients.
The excellent, timely and responsible after-sales service is one of the Dryfree brand's appreciation modes.
Dryfree will provide you with excellent after-sales service,no matter how the marketing demand is changed. Once you own Dryfree's equipment, our after-sales service engineers will provide persistent appreciation guarantee for your investment.