Energy Saving Solar Heat Pump Fruit Dryer Display
Energy saving solar dryer,heat pump dryer,solar heat pump dryer for fruit
800kg Heat Pump Fruit Dryer Features
1.The dryer integrates all the components together through an integrated design. The actual installation is very simple. You just need to connect the air duct.
2.The use of 220-230V voltage for household use does not require commercial 380V power consumption, so the scope of use is no longer limited. Businessmen do not need to apply for commercial electricity, expanding the scope of use of equipment.
3.It is most suitable for auxiliary use of existing solar tunnel dryer, which makes up for the temperature instability of solar energy – - no sunshine at night, the goods will be damaged. It combines free solar energy with energy-saving and stable heat pumps that work all day.
4.It can assist commercial solar dryer, combined with solar energy, to refine the quality of products and the effect of all-day use.
5.Saving the cost of drying – — Combining solar energy to achieve the optimal use effect and the maximum energy saving.
6.The multi-functional drying unit has its own control system and drying software system, which can reasonably control the drying temperature, humidity and time, and can set different drying temperature and humidity in multiple time stages.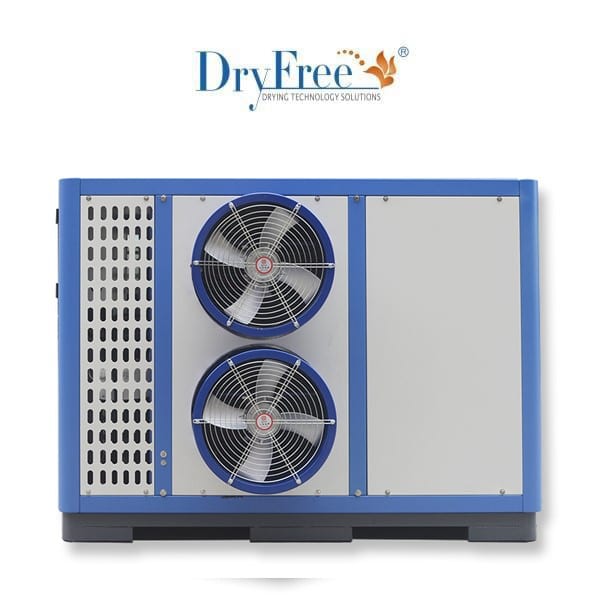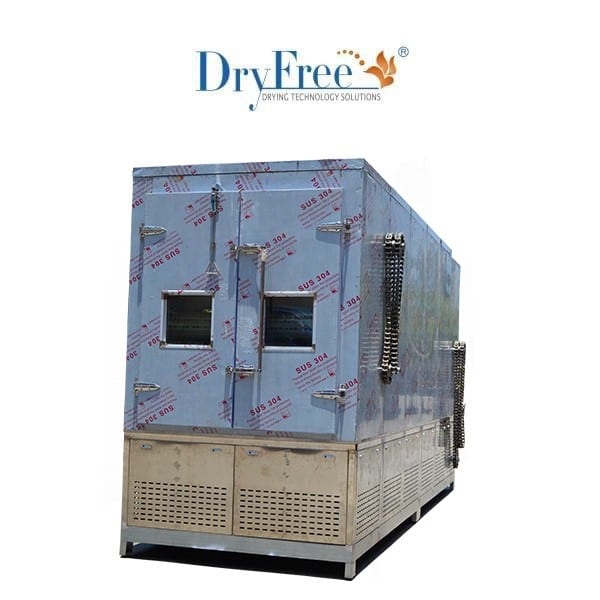 3000kg Solar Heat pump Conveyor Belt Fruit Dryer Features
1.Closed cycle drying, no pollution to the atmosphere and surrounding environment, in line with the requirements of environmental protection.
2.Conveyor belt material transportation can realize bulk material drying.
3.Quick drying, good effect and significant energy saving.
4.High pressure electric field sterilization.
5.Fully automatic operation, no need for manual supervision.
6.Batch continuous and automatic drying.
7.Quickly drying to reduce material moisture content.
8.Modular unit, small occupation area, easy to adjust equipment operation position.
9.No infrastructure required.
Application Of 800kg Heat Pump Fruit Dryer
Integrated Multifunctional backup quick-installation energy-save heat pump dehydrator,the multi-function drying set without drying room.It is most suitable for assiting the existing solar tunnel dryer to make up for the temperature instability of solar energy.The installation of the dryer is very simple and saving the cost of drying.
Widely used to drying vegetable,fruit,herbs.Such as cabbage,daylily,litchi,honeysuckle,mushrooms,blueberry,jujube,tea,apricot,raisin,etc.So this dryer can be a food dryer,fruit dehydrator,herb dehydrator.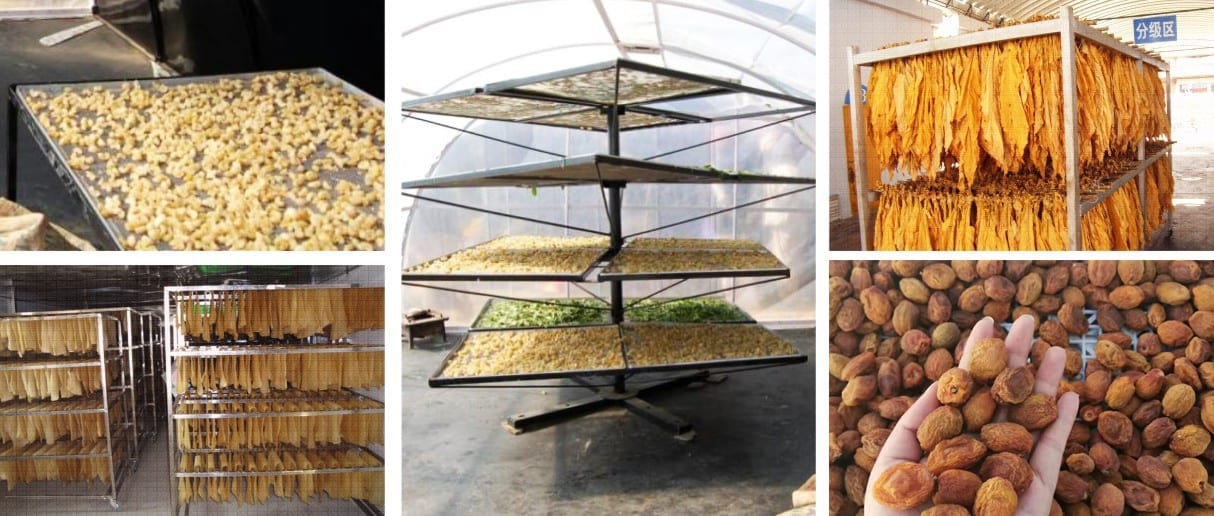 Deatils Of 800kg Heat Pump Fruit Dryer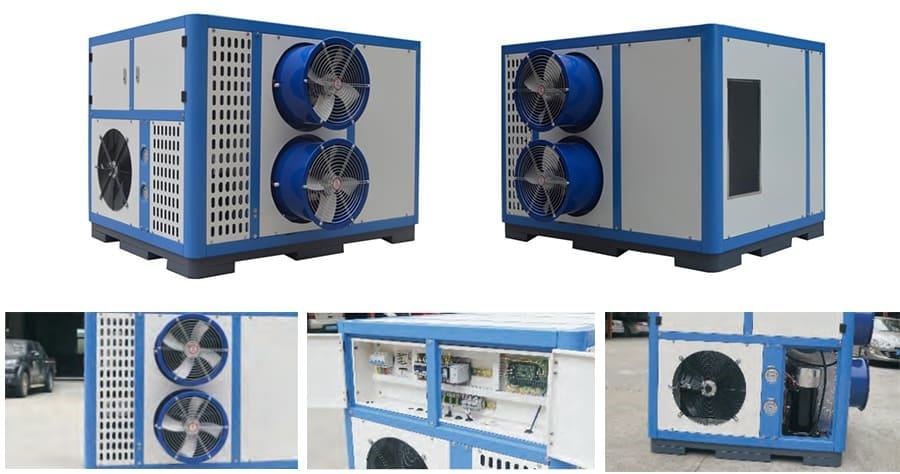 How To Use 800kg Heat Pump Fruit Dryer To Dry Apricot?
Controller parameter setting:
1.The first stage: temperature 36 degrees, humidity 50%, constant temperature for 5 hours after heating;
2.The second stage: temperature 45 degrees, humidity 45%, constant temperature after heating for a total of 8 hours; at this stage, the material effluent is relatively large, such as the drying heat pump's ability to dehumidify is insufficient, it is necessary to open a strong exhaust port for moisture removal
3.The third stage: the temperature is 50 degrees, the humidity is 40%, and the temperature is kept constant for 20 hours after heating;
4.The fourth stage: temperature 58 degrees, humidity 30%, constant temperature for 20 hours after heating;
5.Fifth stage: temperature 65 degrees, humidity 18%, constant temperature for 18 hours after heating
800kg Heat Pump Apricot Dryer
Technical Specifications Of 800kg Heat Pump Fruit Dryer
| | |
| --- | --- |
| Model No. | DR-6P(S) |
| Power supply | 230v/1/50hz |
| Dryer heating capacity | 14kw(70℃) |
| Rated inputpower(Compressor) | 4.8kw |
| Rated input power(Circulating fan) | 0.6kw(2pcs) |
| Total power | 6kw |
| Rated input currents | 26A |
| Compressor | 3HP scroll |
| Compressor quantity | 2pcs |
| Refrigerant type | Dryfree special refrigerant |
| Refrigerant charge | 8kg |
| Circulation fan volume capacity | 5000-8000m³/h |
| Circulation fan speed | 2800R/min |
| Evaporator | Copper tube,aluminum fins |
| Condenser | Copper tube,aluminum fins |
| Ambient temperature | 5-45℃ |
| Load capacity | 500-800kg |
| Maximum/rated temperature | 85/80℃ |
| Noise | 55dB(A) |
| Chamber dimension | 1540*1050*1040mm |
| Exhaust maximum temperature | 115℃ |
| Exhaust pressure | ≤2.35Mpa |
| Return air pressure | ≤0.03Mpa |
| Net weight | 350kg |
| Application type | Indoor & outdoor |
| Container loading | 30sets |