Energy Saving Solar Heat Pump Food Dryer Dispaly
Energy saving solar dryer,heat pump dryer,solar heat pump dryer for food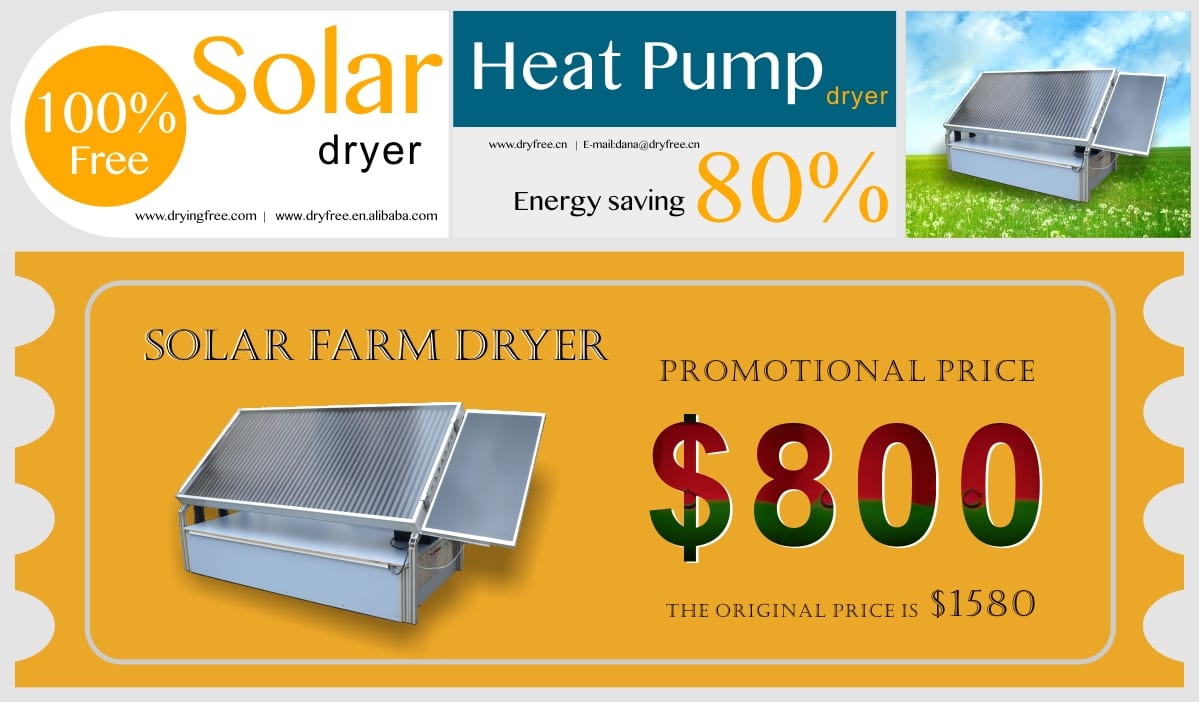 100kg Solar Farm Dryer For Food Features
The Small-Farm model has three main features which enhance drying speed and efficiency. This compact configuration provides for:
• Horizontal airflow across the food is proven superior versus vertical airflow.
• Solar air collector tilts to accommodate any latitude or season.
• Entire dryer can swivel on a fixed table so operator can rotate unit to track the sun.
Large commercial dryers, or their solar air collectors, are unable to be rotated during the day to track the sun. This limitation also favors multiple small units.
This small solar dryer is intended for the small landholder or a family. With a capacity of 10 - 100 kg of sliced wet fruit or vegetables, depending on type of fruit and numerous other factors , this dryer is ideal for high-quality natural preservation in a micro-enterprise setting. multiple units provide a significant commercial volume at a combined cost which remains economical and substantially lower than large commercial solar dryers.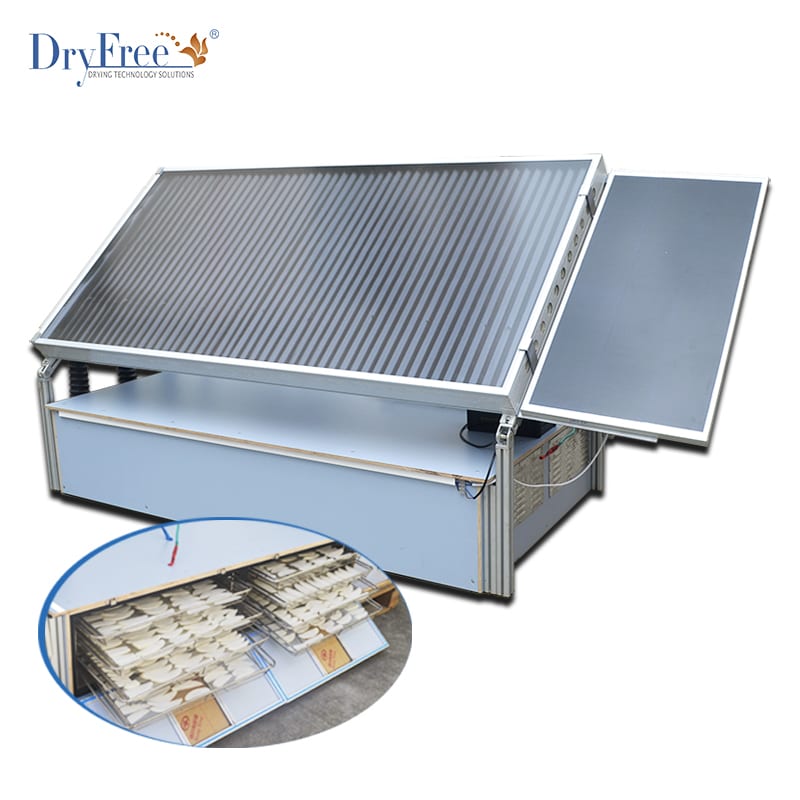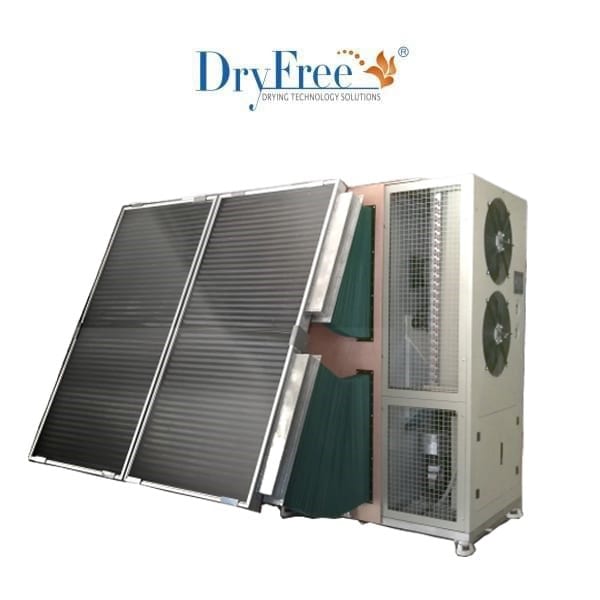 300kg Solar Heat Pump Food Dryer Advantage
1. Free solar power + Energy-save heat pump power
2. Can save 7.5kwh per hour on working time compare with electric heater. And should save so large power cost if calculate 7.5kwh x 24 hours x 30 days (per month) x 12 (months per year )
3. Accurate dry procedure to dry different goods with best quality like keep fresh color and others.
4. Easy operation to select touch button with different programs for different goods through Touch Screen.
5. Automatic control for all total dry process.
6.Reinforced strong structure with long time work life and less maintenance.
7.Waste heat recovery and reutilization
8. Environmental protection and decrease Carbon emission with solar and energy-save power.
Application Of 300kg Solar Heat Pump Food Dryer
This solar heat pump food dryer is the most saved dry machine for power cost with higher performance and 24 hours constant work. With 60 sets stainless steel trays, it can dry 300kg more or less with one batch.Very easy to operate the machine through select dry button on Touch Screen. And accurate control program assure best dry quality for final dried goods. Work stable and automatically for dry process.Reinforced strong structure assure long work life with less maintenance.The solar heat pump food dryer use popular for many factories, farms, private business, starup companies, etc to save more power cost and have best quality dried goods to sell on market and grow their business.Easy to move everywhere with strong wheels.Multifuctional drying procedures to dry different goods include fruits, fish, vegetables, nuts, foods,etc.
1.Fruit drying:Lemon, banana, coconut, pineapple, plum, litchi, cherry, olive, grape, apple, mango, persimmon, watermelon, etc
2.Meat drying:Beef, bacon, duck, sausage, dried pork, etc
3.Seafood drying:Small Fish,Sea cucumber,Seaweed,Shrimp,Fish gelatin,etc
4.Herbs drying:Poria Cocos,Caulis Dendrobi,Ginseng drying,Lycium chinense,Cordyceps,etc
5.Nuts drying:Peanuts, macadamia nuts, pecans, pistachios, pine nuts, walnuts, almonds,etc
6.Flowers drying:Rose,Chrysanthemum,Honeysuckle,Chrysanthemum,Dendrobium,etc
7.Agricultural products drying:Beancurd, scallion, yellow cabbage, rice, dried bamboo, red jujube, ginger, sweet potato, yam, chili, corn, chili, spicy leaf, mushroom, etc
8.Industrial products drying:Rubber,Paper Tube,Sludge,Charcoal shell,Wood,ceramic,etc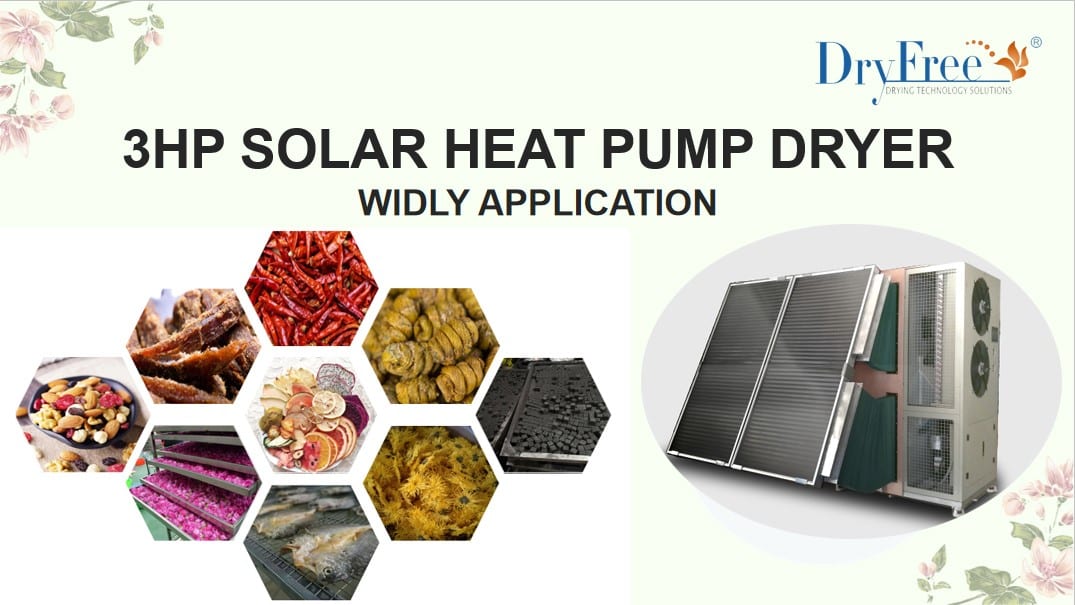 Deatils Of 300kg Solar Heat Pump Food Dryer
Temperature and humidity automatic control. the compressor runs to remove moisture from the air whenever the relative humidity in the dry room is above the humidity set point. Since relative humidity and EMC are directly related, this system is ideal for those who want to dry mixed loads or are interested in equalizing the dry room charge.This system is suitable for the drying field of humidity and temperature , approximately 200 KG of wet fruit can be dried at one time.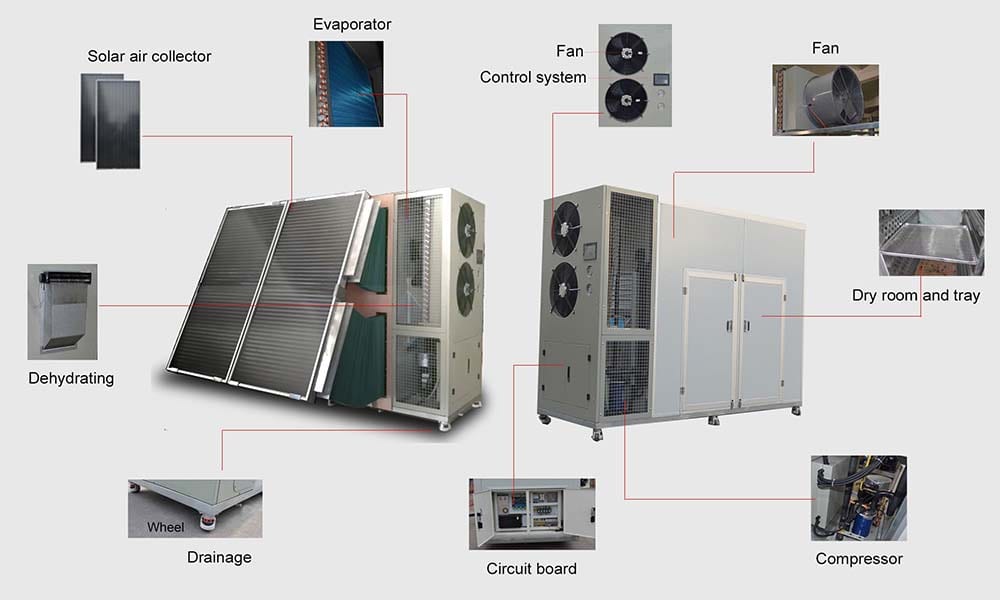 How To Use 300kg Solar Heat Pump Food Dryer To Dry Mango?
1.Selection: The choice of mango is of course the best choice for fleshy and nuclear, because mango's own skin and core account
for about 50% of the total. Maturity is 8-9. Fully mature production will be less tasty.
2.Cleaning and peeled slice: clean and slice. Wash mango, drain, peel skin contains tannins, will make the flesh browning, so the skin must be cleaned, remove marks, vertically cut the mango into a sheet of about 0.3 to 0.5 cm thick.
3.Harden and absorb sugar: 60-70% sucrose or starch syrup. A small amount of calcium chloride hardener was added, and the mango slices were soaked in syrup for 1-2 days toharden and absorb sugar.
4.Drying: remove the mango slices carefully and place them one by one on the drying tray and turn on the power supply for the drying machine.
5. Soften and store: place dried mango in sealed container for 2- 3 days, let it soften, packaging into bag, pay attention to low temperature and avoid light storage.
How To Use 300kg Solar Heat Pump Food Dryer To Dry Coconut?
Controller parameter setting:
1.The first stage: temperature 38 ℃, humidity 50%, drying time 2H
2.The second stage: the temperature is 40, the humidity is 30%,
the drying time is 2H
3.The third stage: temperature 42 ℃, humidity 20%, drying time 2H
4.The fourth stage: temperature 45 ℃, humidity 10%, drying time 2H
Technical Specifications Of 300kg Solar Heat Pump Food Dryer
Item

Unit

Description

Model

DF/HP-3/R

Power Supply

220V/50Hz

Ambient temperature

°C

-5 to 45

Load capacity

kg

300-500kg

Dryer Heating capacity

kW

12KW

Rated Input power (Compressor)

kW

2.4KW

Rated Input power (Outdoor fan)

kW

0.7kw(2pcs 0.35KW)

Rated Input power (circulating fan)

kW

0.6KW

Total Power

kW

3.7KW

Rated Input Currents

Amps

13A

De humidification capacity

LPH

12KG/H

Compressor Model No

Copeland

3HP (scroll compressor) ZW34KA-TPFS-582 Copeland

Refrigerant Type

Dryfree special refrigerant

Refrigerant charge

kg

4KG

Evaporator

Copper tube, Aluminum fins – Yellow anticorrosive material

Condenser

Copper tube, Aluminum fins – Yellow anticorrosive material

Outdoor fan Qty.

2

Outdoor fan volume capacity

m3/h

6500 M3 / h

Fan speed

RPM

1450R/MIN

Circulation fan volume capacity

m3/h

5000-8000 M3 / h

Circulation fan speed

RPM

2800R/MIN

*Maximum/rated temperature

°C

85/80

*Noise

dB(A)

55

*Chamber dimension (LWH)

mm

2800x1100x2200

Insulation thickness

mm

50

Nos. of Trolley

NO

Trolley dimensions

mm

NO

Trolley Materiel

NO

*No of trays

60

*Tray Dimension

mm

460x640x25

Tray Material

Total stainless steel 304

Door Size

mm

700X750

Nos. of Doors

2

Exhaust maximum temperature

°C

115

*Exhaust pressure

Mpa

≤2.35

*Return air pressure

Mpa

≤0.03

*Net weight

Kg

800

Application type

Indoor & Outdoor