Industrial Paper Tube Or Wood Dry Machine
Product Detail
Technical Specifications
AFTER-SALES SERVICE
The use of heat pump drying technology marks a new direction and a new field for dehydration drying of industrial products. It has a strong impact and challenge to the traditional drying methods and equipment of industrial products.

Advantage
1.Energy conservation
Energy saving is the starting point and the main advantage of heat pump application.
2.Good quality of dry products
Heat pump drying is a mild drying method, close to natural drying. The evaporation rate of surface moisture is close to that of internal moisture moving to the surface, so that the quality, color and grade of dried articles are good.
3.Drying parameters are easy to control and can be adjusted in a wide range
In the process of heat pump drying, the temperature, humidity and circulation flow of circulating air can be accurately and effectively controlled, and the range of temperature adjustment is -20 ℃ 100 ℃ (plus auxiliary heating device), and the range of relative humidity adjustment is 15% and 80%. Suitable for drying heat sensitive materials.
4. Environment-friendly
Material drying not only requires improving product quality and saving energy consumption, but also environmental friendly. Based on the same evaluation criteria, heat pumps have a small impact on global warming compared with electrically released CO2. Environmental friendliness is the advantage of heat pump drying. At present, the application of heat pump to reduce CO 2 emission is advocated in foreign countries, and it will be applied further.
5.Environmental benefits
There is no pollution to the environament, creating a clean and harmonious working environment and production environment, laying the foundation for the sustainable development of the enterprise, making a strong impetus for the future of the enterprise and the technological innovation and the adjustment of the industrial structure. It is in line with the law of coordinated development between human and nature and the economy.
Product details

Application
The air energy heat pump dryer widely used in induatrial goods,such as paper tube,wood,copper tube,ceramic,bottle,grass,rubber,etc.So this dryer can be a industrial dryer for different kinds of induatrial products.

Project photos
Paper tube drying

Wood drying

Ceramic dry

DRYFREE Paper tube drying machine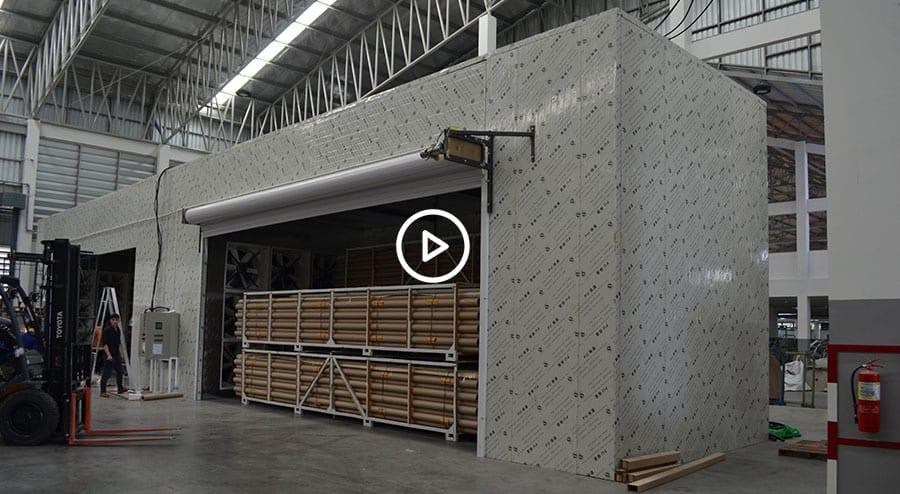 ---
Previous:
Flower Dry With Water Recovery System
---
Item

High temperature with dehumidity integrated heat pump dry machine

Mode

DF/HP-12/R

Power source type

380V /3N-/50HZ

compressor

Input power

12HP

Brand

valley wheel from America

Type

Closed vortex compressor

Evaporator

Hydrophilic aluminum foil sleeve

Condenser

Hydrophilic aluminum foil sleeve

Rated heat

KW

36

Rated current

A

18

Maximum temperature/rated temperature

℃

85/80

refrigerant filling volume

KG

4.5*2

Ambient temperature condition

℃

-60

Size

Heat pump host(mm)

2500*1400*1500

Heat pump vice machine(mm)

/

Equipment weight

KG

500

Noise

Db(A)

55

Exhaust maximum temperature

℃

115

Exhaust side pressure

Mpa

≦2.35

backpressure

Mpa

≧0.05

Axial flow fan

Power(KW)

0.75*1/1.1*1

Specification

380V /3N-/F500

Air volume(M3)

10000-15000

Waterproof level

I

Type of electric shock protection

IP*4

Size of brass joint

/

Standard accessories

Instruction/warranty card/certificate
1.Providing high temperature heat pump products featured by excellent property and leading technology exclusively.
2.Building complete technical supporting system through technical training and consultation service.
3.Supporting regular return visit and maintenance plan.
4.Providing specially-assigned person tracing service to ensure the good communication and coordination with clients.
5.Committing to providing 1 year free product warranty period and corresponding spare parts.
6.Gradually researching & developing and upgrading products,technology and solution.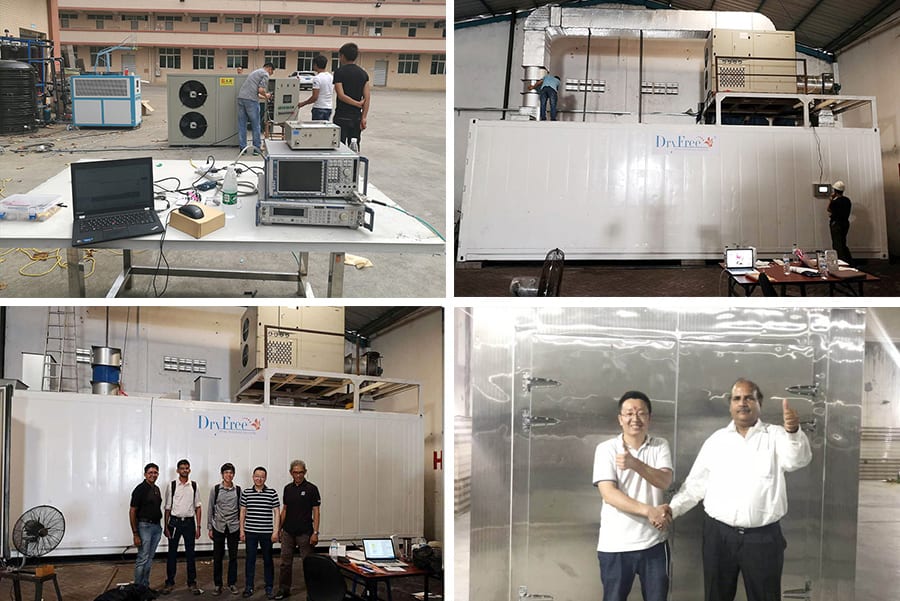 Dryfree always gets prepared for providing you our service. We supply you spare part service for 24 hours a day so you can recover production quickly and timely with the fittings timely supplied by us. We can deliver the commonly used fittings from our warehouse in Dongguan on the current day.And we also can ask our agent and partners in different region to help with after-sale service.We are well-experienced in project after-sales service management and praised by clients.
The excellent, timely and responsible after-sales service is one of the Dryfree brand's appreciation modes.
Dryfree will provide you with excellent after-sales service,no matter how the marketing demand is changed. Once you own Dryfree's equipment, our after-sales service engineers will provide persistent appreciation guarantee for your investment.