Domestic Split Flat Plate Pressurized Solar Wat...
Product Detail
Technical Specifications
AFTER-SALES SERVICE
This solar heat pump dryer is the most saved dry machine for power cost with higher performance and 24 hours constant work. With 60 sets stainless steel trays, it can dry 300kg more or less with one batch.
Very easy to operate the machine through select dry button on Touch Screen. And accurate control program assure best dry quality for final dried goods. Work stable and automatically for dry process.
Reinforced strong structure assure long work life with less maintenance.
It use popular for many factories, farms, private business, starup companies, etc to save more power cost and have best quality dried goods to sell on market and grow their business.
Multifuctional drying procedures to dry different goods include fruits, fish, vegetables, nuts, foods,etc
Easy to move everywhere with strong wheels.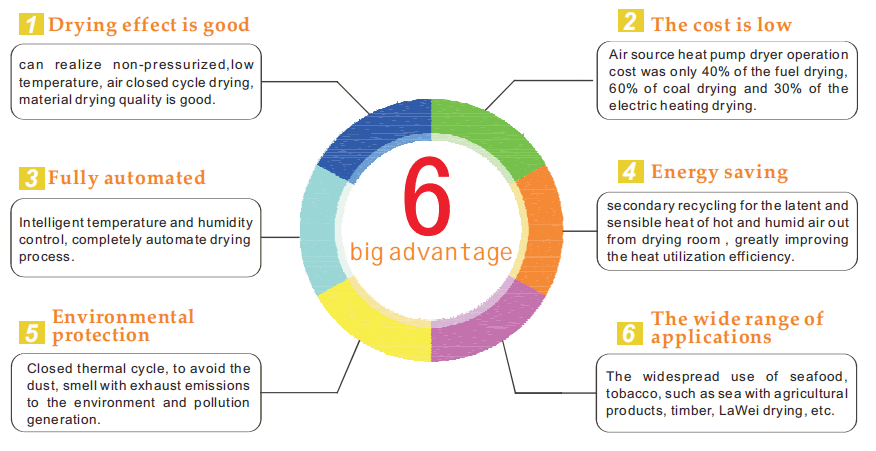 Advantage
1. Free solar power + Energy-save heat pump power
2. Can save 7.5kwh per hour on working time compare with electric heater. And should save so large power cost if calculate 7.5kwh x 24 hours x 30 days (per month) x 12 (months per year )
3. Accurate dry procedure to dry different goods with best quality like keep fresh color and others.
4. Easy operation to select touch button with different programs for different goods through Touch Screen.
5. Automatic control for all total dry process.
6.Reinforced strong structure with long time work life and less maintenance.
7.Waste heat recovery and reutilization
8. Environmental protection and decrease Carbon emission with solar and energy-save power.
Product details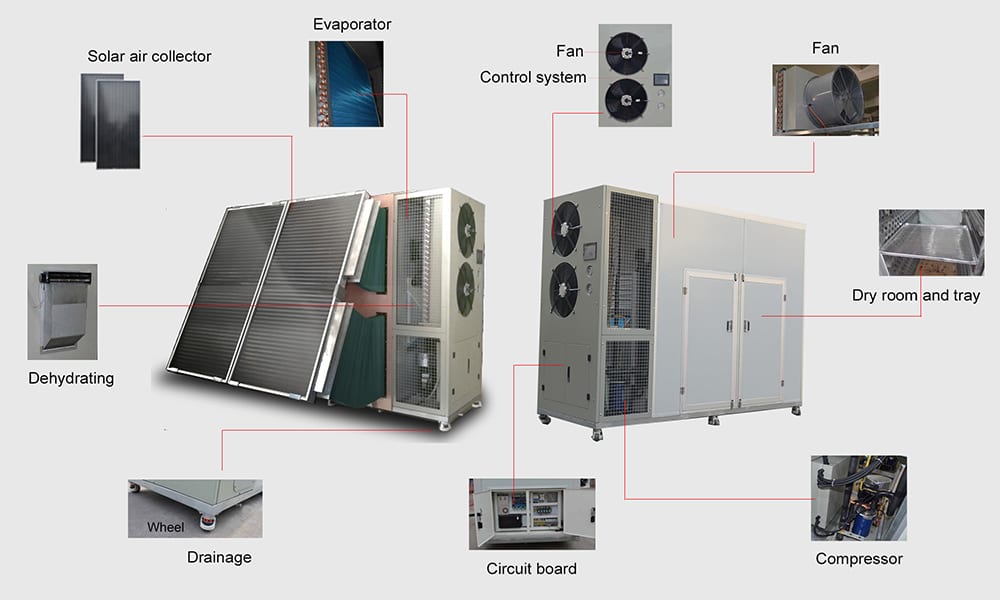 Application
Widely used to drying fruit,vegetable,herbs,meat,seafood,etc.Such as litchi,honeysuckle,daylily,beef jerky,mushrooms,blueberry,medlar,jujube,walnut,plum,tea,apricot,raisin,bacon,suasage,small shrimp,rice,etc.So this dryer can be a food dehydrator or fruit dryer.

Project photos
Case of mango drying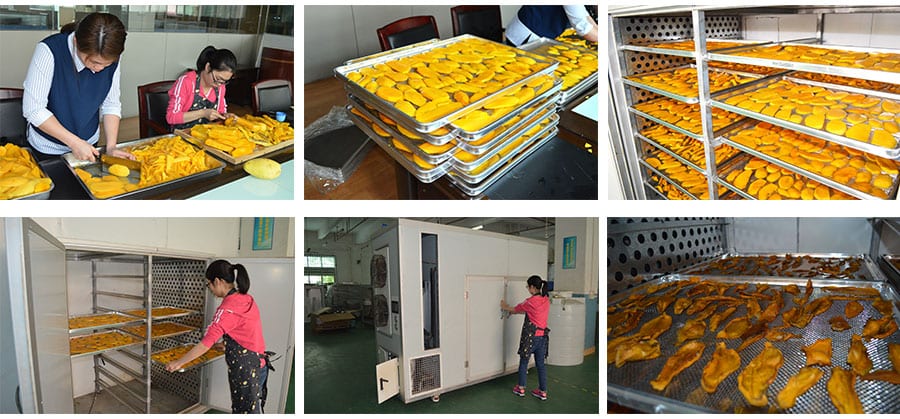 DRYFREE Mango dehydrator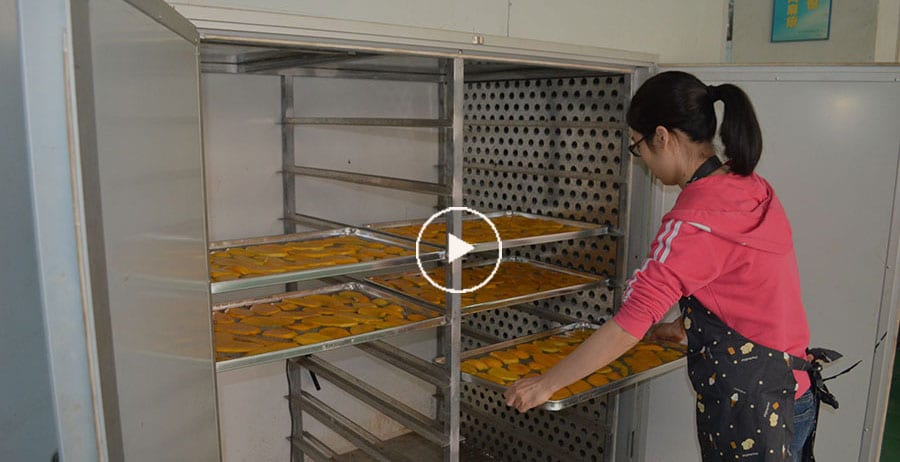 ---
---
Warranty Details: 10 years warranty for system
1.Providing high temperature heat pump products featured by excellent property and leading technology exclusively.
2.Building complete technical supporting system through technical training and consultation service.
3.Supporting regular return visit and maintenance plan.
4.Providing specially-assigned person tracing service to ensure the good communication and coordination with clients.
5.Committing to providing 1 year free product warranty period and corresponding spare parts.
6.Gradually researching & developing and upgrading products,technology and solution.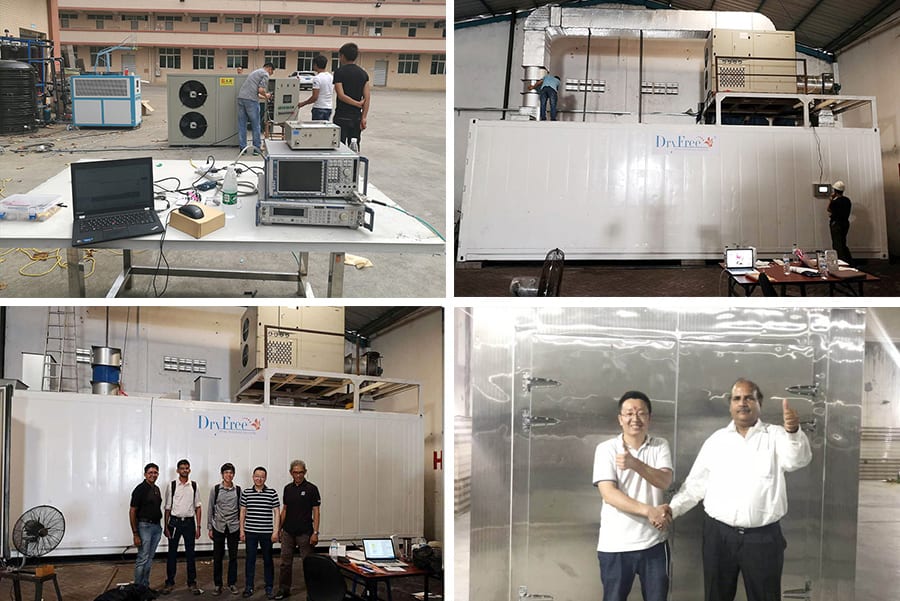 Dryfree always gets prepared for providing you our service. We supply you spare part service for 24 hours a day so you can recover production quickly and timely with the fittings timely supplied by us. We can deliver the commonly used fittings from our warehouse in Dongguan on the current day.And we also can ask our agent and partners in different region to help with after-sale service.We are well-experienced in project after-sales service management and praised by clients.
The excellent, timely and responsible after-sales service is one of the Dryfree brand's appreciation modes.
Dryfree will provide you with excellent after-sales service,no matter how the marketing demand is changed. Once you own Dryfree's equipment, our after-sales service engineers will provide persistent appreciation guarantee for your investment.